Prepare and enjoy this light yet filling salad at your next cookout!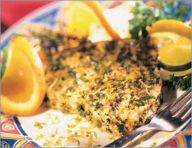 This gluten-free friendly dish is great for citrus-lovers!
(Serves 2)
2 3/4-inch to 1-inch thick swordfish steaks (about 6 ounces each)
2 T total lemon, orange and lime zest, grated (to get zest, finely grate peel of whole fruit, being careful not to include bitter white skin)
This dish can be served hot, at room temperature, or chilled, and as a meal or as a side dish.